Valentine's Day has me thinking about love letters. I have a small cedar box where, over the years, I have sequestered cards and clippings and even a few letters that nourished my heart when I received them. This year, I went back in search of three: A letter from my grandmother expressing her pleasure at having lived long enough to see me married; one from my mother expressing confidence in me as a budding lawyer; one from a spiritual mentor reminding me that I have a unique role to fill. Each contains the voice of the author, feelings far deeper than the words themselves.
Will my words emerge from a memory box to encourage and sustain those I love? Will yours?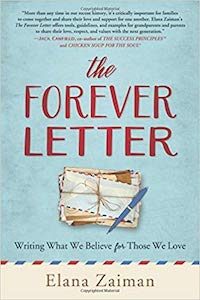 In her excellent book, The Forever Letter: Writing What We Believe for Those We Love, Rabbi Elana Zaiman gives us the centuries old history of the deliberately prepared "ethical will" and brings its uses skillfully into our modern world. As she notes, a planned letter to those we cherish can serve one or several functions: to impart a lasting gift; to write what we cannot speak; to clarify our values; to allow us to live with greater intention; to ask for and to express forgiveness; to make ourselves and our values known; to influence the way we are remembered. Heavy freight for the page, but with the potential to lead to a freedom and an understanding that are beyond measure.
As an end of life coach, I have been privileged to help with the writing of legacy letters. Sometimes, these are left to be read on specific occasions, such as weddings and graduations, which the writer will not live to take part in. Sometimes, as Zaiman suggests, they are written to express what the writer cannot speak aloud. Sometimes, they serve to clarify the confusion of a life of doing and lead to an understanding, at last, of one's purpose on this earth.
Important as "forever letters" are, they need not be left to our final weeks or days. The writing is the first step in a process that changes how we see ourselves and the world. Leaving that to the end of days means many missed opportunities.
It is never too late to say, "I love you." It is never too early to say, "I forgive you. Please forgive me." I urge you to write a letter today. You can decide tomorrow whether you will send it, keep it for later, or destroy it. I'd love to hear how it goes for you. And Happy Valentine's Day.