As I prepare this week to launch a new Death Café to serve the residents of a Seattle retirement community, I am reflecting on my great good fortune to have grown up in a family where death was an accepted topic of conversation.  I think it strange that death remains a taboo subject for "polite" conversation.  Clearly, other things not spoken of in my youth (incontinence garments come to mind) now enter my living room at any time via the tv screen. I find myself wondering: Why don't we talk about death? And how can those who want to have those conversations find a way to begin?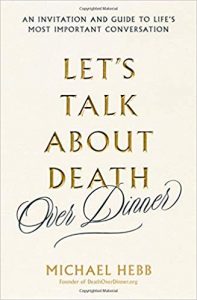 In his book Let's Talk About Death (Over Dinner), Michael Hebb theorizes that many of us would like to talk about death, to explore our own mortality in the company of family and friends, but assume that we are alone in this desire.  Surely, to bring up death would be, at best, discourteous.  One problem with this suppression of our desire to speak of death is that we remain ignorant of our own feelings and those of the people around us.  We are closed off from exploring how death has affected us or how we would like to live out the last days—or even years—of our own lives.  Hebb's model of dinner parties held for the specific purpose of talking about death is one way people are starting these vital conversations.
Death Cafés are another way those interested in open conversation about death and dying are finding one another. These informal gatherings, organized by volunteers, offer a way for people to come together, often over tea and cake, to talk about whatever topic related to death they find compelling on that day.  Under the social franchise's guidelines, the meetings are held "with no intention of leading participants to any conclusion, product or course of action."  No two meetings are ever alike.  The animation of the conversation attests to the fascination of the general topic of death.  How surprised our proper ancestors and our young friends would be!
If you live in the greater Seattle area and would be interested in talking about death over dinner or at a Death Café, please leave a message on my contact page.  Death is a sacred adventure.  And it makes for fascinating conversation.